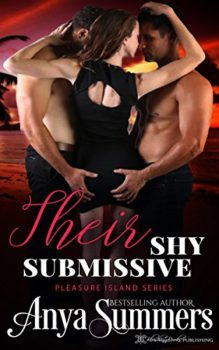 Pleasure Island #3
June 3, 2017
Blushing Books
Available in: e-Book
Their Shy Submissive
Yvette Pfeifer is bemoaning her fate as the submissive no one wants. She left her family and friends in Florida to work as a receptionist on the exclusive resort Pleasure Island. There, her deepest hope is that she will find a Dom who will claim her and make her his. Her only problem is her crippling social anxiety; an affliction which makes it hard for her to attend any club or events.
From the moment Deke Estevez and Shep Jackson began working on Pleasure Island as catamaran captains, ferrying guests and supplies to and from Nassau, they have craved the shy, sweet, voluptuous beauty, Yvette. When she agrees to a scene with them one evening after having been stood up at the club, the trio experiences a night of hedonistic pleasure like no other.
Deke and Shep know that Yvette is the woman they've always wanted, but they both have past demons which threaten to destroy their budding relationship before it's even really begun. Can they convince Yvette to be their submissive — not just the night, but for forever?
Publisher's Note: This a short and sexy novella is part of Anya Summers' bestselling Pleasure Island series and takes place at the same time as the first book. While we do recommend reading all the titles, it can be enjoyed as a standalone.