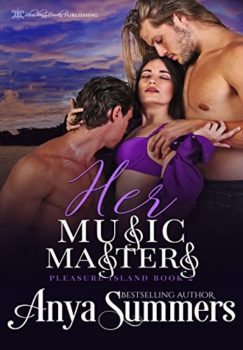 Pleasure Island #2
May 12, 2017
Blushing Books
Available in: e-Book, Trade Size
Her Music Masters
Amaya Taneka from Kyoto, Japan, is a violinist with the London Symphony Orchestra until photos of her entering a BDSM club in Amsterdam surface and she is fired. With her world imploding, Amaya flees to Pleasure Island for some much-needed R&R, and to avoid the circus her life has become. She's not interested in starting a relationship. In fact, she's not even certain she is going to play in the club. She just wants to lie on the beach and not think. When she thinks, she feels — and that hurts.
Alpha Dom Jax Holiday, bassist for the world famous band The Harbingers, and his partner, Lachlin O'Toole, have just finished a hellish world tour. They are taking a long overdue break before they head back into the studio to record their next album. Jax is jazzed about spending the next two weeks on Pleasure Island and playing with all the pretty subs he and Lachlin can convince to join their love play.
When the duo spy the lovely Amaya on the island, they both realize she was the one who got away. The three had spent a passionate night together at the Dungeon Fantasy Club almost a year previously and neither Dom had forgotten her sweet cries of submission.
Amaya is surprised to run into Jax and Lachlin. When they try to connect with her, she falls apart, as both her heart and her soul are broken. At Amaya's downward spiral, Jax and Lachlin set out on a campaign to convince the beautiful submissive to emerge from her depression, to lean on them for love and support, and to allow them to help her rebuild her world.
Will Lachlin be able to convince Jax that adding Amaya to their relationship is for the best? And can Amaya be brave enough to surrender and fully submit her heart to two Doms who want to become Her Music Masters?
Publisher's Note: This is the second book in Anya's bestselling Pleasure Island series; however, it can also be enjoyed as a standalone.