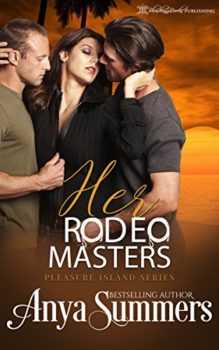 Pleasure Island #9
January 8, 2018
Blushing Books
Available in: e-Book, Trade Size
Her Rodeo Masters
Ivy Phillips is on a mission. She's an investigative reporter for the Pasadena Tribune, and is hoping to write the story of the century by infiltrating Pleasure Island claiming to be a submissive. Except, when she gets there, she inadvertently finds herself auctioned off for charity and now has two hunky cowboys who want to own her body and soul.
Dax Johnson and Nate Banks have been a rodeo team — and lovers — for years. But they've yearned to add a sweet submissive to their union. When they meet Ivy, Dax knows she is the one for them, and the duo set out on a seductive campaign to win Ivy's affection.
But when the truth is revealed, will their newfound relationship survive? Or will the two cowboys ride off into the sunset without her?
Publisher's Note: This is the ninth — and final — installment of Anya Summers' bestselling Pleasure Island series. While we recommend all the books, it can be enjoyed on its own.