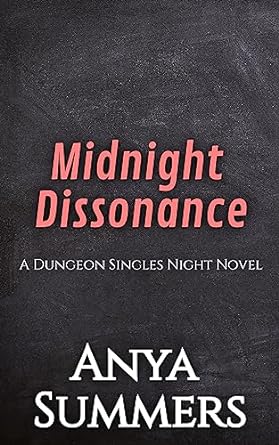 Dungeon Singles Night #13
November 28, 2023
S & G Books, LLC
Available in: e-Book
Midnight Dissonance
Seduced by the Irishman…
Lexi is over the players, the creepy lowlifes, and the narcissists. Who needs men, anyway? All she wants is her music, and freedom to be true to herself.
On a whim, she signs up for a singles event in one last-ditch attempt to resuscitate her woeful dating life, praying she'll get matched with an understanding, loyal, caring Dom.
No such luck. To her horror, Lexi gets paired with Josh Ryan. The sexy Irishman goes through submissives like he changes underwear.
Disillusioned and defeated, she refuses to spend the evening with him, and walks away.
Josh can't believe it. Nobody ever rejects him. Why won't Lexi bend to his desires like a good little sub? Other women fall over themselves to spend a night in his bed.
He and Lexi are polar opposites. She's far too young for him. But her denial ignites a sadistic need in him to see her on her knees, begging him for pleasure.
When he finally tastes her, he understands why. She was meant for him. She belongs to him.
Josh will stop at nothing to make Lexi his. But his sordid past could ruin everything…
Fall head over heels into this steamy, age gap, opposites attract, stand-alone romance between a sexy Irish attorney and a free-spirited songstress as they traverse the rocky road of love.