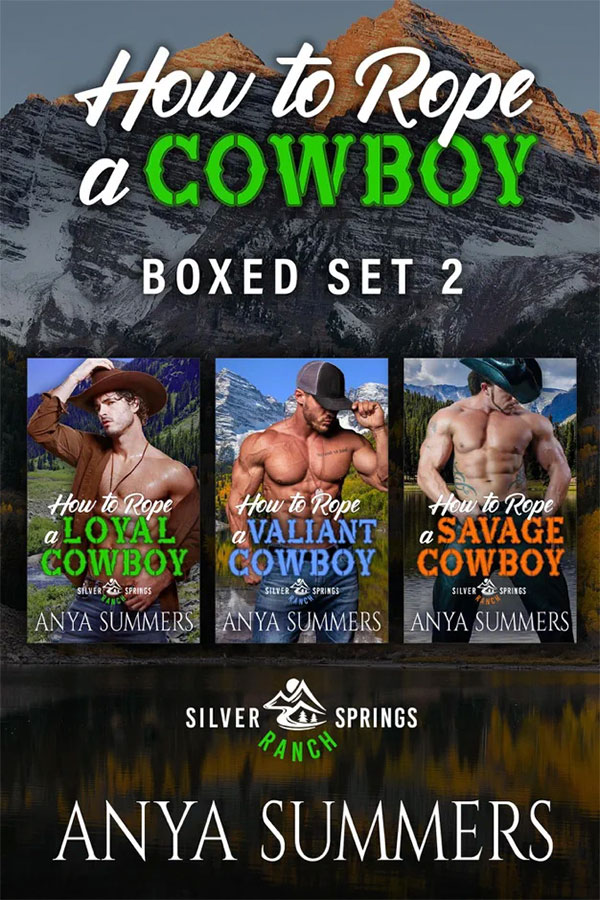 Silver Springs Ranch
May 24, 2022
S & G Books, LLC
Box Set
Available in: e-Book
How To Rope A Cowboy: Box Set 2, Books 4-6
From the Bestselling Silver Spring Ranch series, boxed set #2 with books 4-6!
HOW TO ROPE A LOYAL COWBOY
Widowed single dad Noah needs help in the worst way. He's desperate to find a new live-in nanny to care for his four-year-old twins while he's at work in the stables. Ever since his wife died, he has lived like a monk. What with raising two boys solo and working as the horse master for Silver Springs Ranch, there hasn't been time in his life for things like finding a willing bed partner to slake his dark needs.
When the achingly beautiful Morgan appears on his doorstep inquiring about the job, he doesn't think twice about hiring her. He snaps her up before she discovers his boys are little hellions who have driven the last few nannies away over their antics.
And yet, for the first time in three years, since he buried his heart in the ground, Noah is entranced by naughty visions of the new nanny. She's young, full of enthusiasm, and stirs up every wicked fantasy in his arsenal.
He prays he has the fortitude to resist her delectable charms because she's forbidden. At his age, he can't sleep with, let alone crave, a woman fresh out of college. But she keeps casting sexy glances suffused with desire in his direction, battering his resolve to stay away. She's headstrong, and he aches to exert his dominance.
Will he wave the white flag, and surrender to her naughty whispered pleas?
HOW TO ROPE A VALIANT COWBOY
Retired Navy Seal Duncan has a stellar set up. After years of covert operations dodging bullets, he's living the high life, teaching tourists basic outdoor survival skills at Silver Springs Ranch. The only thing he is evading these days are the countless women trying to trap him into a relationship. He enjoys women and their company immensely, but the institute of marriage and committed relationships are not for him.
And yet the newest maid, Eve, leaves him stymied. She's heart-stoppingly gorgeous, one of the worst maids he has ever encountered, and is holding on to dark secrets—ones that engage his every need to protect and shield her from whatever darkness eats at her.
She's a total thorn in his side, turning him inside out and tying him up in knots with unquenchable desire. Due to the severity of his fascination, he cuts a wide berth around her, figuring it's best to stay as far away from her as possible…
Until she comes to him one night and begs him to teach her self-defense. Duncan discovers he can't contain his need any longer, not when she is looking to him for guidance—and like his every fantasy come to life. He yearns to have her on her knees, begging for his dominance.
And when she becomes a target, he will do whatever it takes to save her.
HOW TO ROPE A SAVAGE COWBOY
Lincoln is floundering. He did something undeniably stupid. On an evening out with his best buddies in Vegas, he hooked up with a smoking hot female for a torrid, all night escapade. It was one of the most carnal experiences of his life, and one he wouldn't be averse to repeating.
Under most circumstances, a one-night stand wouldn't be an issue. Except, the woman is his boss and his best friend's sister. If his buddy discovers their tryst, Lincoln is a dead man. Utter disaster. And yet, there was something about that night that makes him want to risk life and limb to hold her, experience her scorchingly addictive surrender again.
As if that isn't bad enough, after they return home, her ex-boyfriend appears in a bid to win her back, unleashing the territorial beast inside Lincoln. She belongs to him, not some city slicker in a suit.
He plans to prove to her that she belongs in his bed. That he's the only one who should be gifted with her seductive surrender.
Now he's navigating wooing his boss, and falling for her. Can he convince Amber to take a chance on him for more than one night?