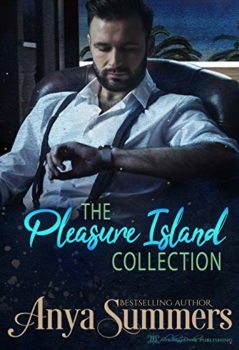 Pleasure Island
January 23, 2019
Blushing Books
Box Set
Available in: e-Book
The Pleasure Island Collection
On a secluded island in the Bahamas lies an exclusive lifestyle resort, where anything goes and visitors experience their utmost desires. Where the Doms are fiercely loyal, protective, and incredibly gorgeous. Where the women are strong enough to withstand a hurricane yet soft enough to surrender to the intoxicating desire found in their Dom's arms. It is a vacation experience like no other.
Welcome to Pleasure Island, where your every fantasy awaits…
This is the complete set of all nine full-length scintillating, spicy romance novels by bestselling author Anya Summers. It includes…
Her Master & Commander
(originally published April 2017 in trade paperback and eBook)
Jared leaves his homeland of Scotland with a broken heart and the desire to start again. He forges a new life far away, building the premier vacation destination for those in the lifestyle. Jared immediately recognizes the sweet submissive within his newest employee and sets out on a campaign to conquer Naomi's hesitation, show her pleasure beyond her wildest imaginings, and convince the sweet sub to submit to him for more than one night.
Her Music Masters
(originally published May 2017 in trade paperback and eBook)
When Jax and Lachlin spy the lovely Amaya on the island, they both realize she was the one who got away. The three had spent a passionate night together at the Dungeon Fantasy Club almost a year previously and neither Dom had forgotten her sweet cries of submission…
Their Shy Submissive
(originally published June 2017 in eBook)
From the moment Deke and Shep began working on Pleasure Island as catamaran captains, ferrying guests and supplies to and from Nassau, they have craved the shy, sweet, voluptuous beauty, Yvette. Can they convince her to be their submissive — not just for the night, but for forever?
Her Lawful Master
(originally published July 2017 in trade paperback and eBook)
When Piper asks Theo to pose for her, he turns the tables and makes a proposition: submit to him while they are on the island and at the end of the week, they go their separate ways. No harm, no foul, no attachments. What starts as a simple arrangement morphs into something a lot deeper as Piper surrenders more than just her body to Theo's skillful mastery. When her secret is revealed, will it tear their fledgling relationship apart?
Her Rockstar Dom
(originally published Septemer 2017 in trade paperback and eBook)
Julia has a secret. She's an imposter planted on Pleasure Island, an undercover agent. Until now, she's been able to pretend that she is part of the lifestyle. But that all changes when she receives a new set of instructions from headquarters. She's to get close enough to their latest suspect that she will be forced to do something she's never considered herself capable of doing — submit.
Duets & Dominance
(originally published October 2017 in trade paperback and eBook)
Lizzie has a problem of epic proportions — she's the oldest virgin in the world. Invited to perform on Pleasure Island with her best friend Solomon, she devises a plan to seduce him and rid herself of that infernal status. After all, they shared a mind-blowing kiss a year ago, and that has to count for something, right?
Her Undercover Doms
(originally published November 2017 in in eBook)
Patrick and Nick have been chasing the gorgeous beauty, Sherry, and jump at the chance to entice her into their arms. But will a hurricane and investigation into a sex trafficking ring tear them apart?
Menage in Paradise
(originally published December 2017 in trade paperback and eBook)
When Ian and Eric cause a stir with their antics on Pleasure Island as they each attempt to win Olivia, they will be forced to contemplate another means of attaining their prize. Can they convince Olivia to experience the fantasy of a ménage with them?
Her Rodeo Masters
(originally published January 2018 in trade paperback and eBook)
Dax Johnson and Nate Banks have been a rodeo team — and lovers — for years. But they've yearned to add a sweet submissive to their union. When they meet Ivy, Dax knows she is the one for them, and the duo set out on a seductive campaign to win Ivy's affection.