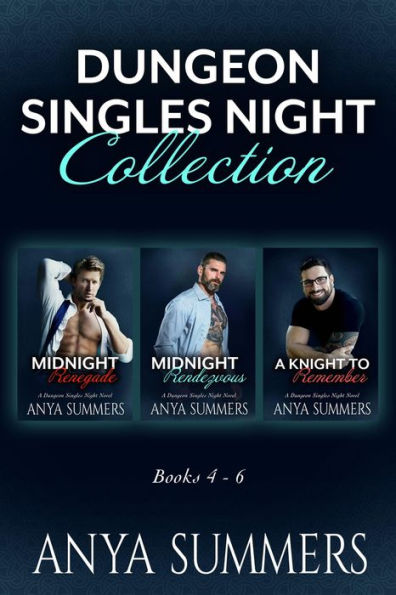 Dungeon Singles Night
December 13, 2022
S & G Books LLC
Box Set
Available in: e-Book
Dungeon Singles Night Collection 2
MIDNIGHT RENEGADE
They were enemies…with benefits.
Sworn adversaries with no love lost between them. And yet, the night Brody throws down the gauntlet, challenges Reegan to surrender to his touch, she recklessly accepts.
An erotic pact forged in flames. But there are rules. He will give no quarter. No emotional ties. No commitment. And absolutely, no falling in love.
She agrees to his terms. She makes a deal with the devil. She's playing with fire.
And they are both about to be burned…
MIDNIGHT RENDEZEVOUS
She is untouchable. Forbidden.
His best friend's stunning, maddening, and deeply stirring younger sister has always been completely off limits. Asher has been fighting the clawing desire to touch her for years.
But when Emilia unexpectedly appears at his office with danger stalking her, he can't say no.
She chose to ask him for help. For protection. Asher will shield her with both his body and his badge and suffer in agony as he keeps his hands to himself.
Yearning for her surrender, craving her passion, is wrong. He made a vow to her brother never to touch her, and he is a man of his word. A man of honor.
Emilia made no such promise. She craves Asher's touch.
Even if the heat they generate incinerates them both.
"Handcuff me to a FBI agent! Heat, danger, and a protective hero combined to captivate me in a story I couldn't put down!" – Pepper North, USA Today Bestselling Author
A KNIGHT TO REMEMBER
Peyton can't believe she let her friends talk her into going on a date—to a sex club, no less. And dressed up as Lady Guinevere. Peyton doesn't believe in love. In fact, life has convinced her that romance is nothing but a fairy tale. As she expects, the date goes every kind of wrong and the jerk she's with can't seem to take no for an answer. Peyton is in trouble, serious trouble, until a gorgeous knight in shining armor—literally, a knight—comes to her rescue.
Colin likes to play. To seduce. To give women pleasure. But that's all he's interested in. Once upon a time he believed in true love and happily-ever-after. That was until his fiancée left him standing at the altar with a huge diamond ring and a broken heart. When he sees Peyton is in trouble, chivalry takes over. Once she's safe, he is shocked to realize he needs more than her gratitude, he needs her. In his bed. In his life. His.
The only way to break down the walls around Peyton's heart is to touch her. Tame her. Demand her complete and total surrender. Give her…A Knight to Remember.