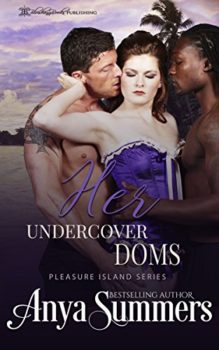 Pleasure Island #7
November 14, 2017
Blushing Books
Available in: e-Book
Her Undercover Doms
Sherry can't believe her luck; she followed a Dom all the way to the Bahamas only to have him fall for another submissive — and, to make matters worse, that same Dom has issued her an ultimatum: either submit to the handsome Doms Patrick and Nick to become a better sub, or leave the island.
Will the two undercover CIA Agents convince the gorgeous beauty that she is the woman for them or will their undercover investigation tear them apart?
Publisher's Note: This sizzling ménage which finally tells Sherry's story was part of the Hero Undercover box set. While it's part of the bestselling Pleasure Island series, it can be read and enjoyed as a standalone.