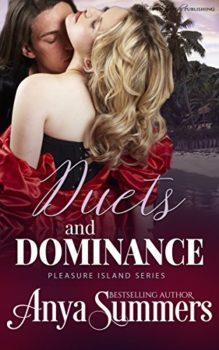 Pleasure Island #6
October 30, 2017
Blushing Books
Available in: e-Book, Trade Size
Duets and Dominance
Elizabeth "Lizzie" von Klepper has a problem of mythic proportions—she's the oldest virgin in the world. Invited to perform on Pleasure Island with her best friend, she devises a plan to seduce Solomon, and rid herself of her infernal status. They'd shared a knock your socks into orbit kiss a year ago and that had to count for something, right?
Solomon Ventura adores his best friend, Lizzie. She's been his best friend since their humble beginnings at Julliard, but deep down he's yearned for her. And ever since he tasted her, a stolen kiss he'd not been able to forget, he cannot seem to stop his mind from conjuring up myriad fantasies with Lizzie in the staring role. But he's not the man for her. She's light where he is dark and his brand of love would shatter the only woman he's ever cared about.
After a heated exchange, they strike a bargain, and give in to the temptation the other presents. Except as Solomon capitulates to his desire for Lizzie, he worries that now that he has sampled her seductive charms, he cannot remain unaffected. Can Solomon return to just being Lizzie's friend at the week's end? Or will their days filled with music and nights suffused with earth shattering seduction destroy them both?