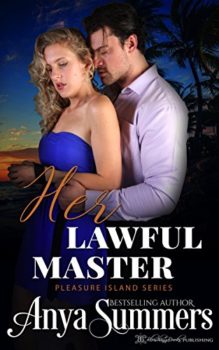 Pleasure Island #4
July 7, 2017
Blushing Books
Available in: e-Book, Trade Size
Her Lawful Master
Piper Delaney keeps men — Dominants in particular — at arm's length. There are dark secrets in her past that have been keeping her from willingly submitting, or forging any type of intimate relationship with anyone. That all changes when she is hired to photograph Pleasure Island for a brochure and she runs headlong into Theo, a man who stirs her body and challenges her lonely existence.
Theo Brown is a lead solicitor who hasn't ever found someone he wanted to keep. Most were rather dull and insipid once he got them out of their knickers. Then he runs into the sexy as hell Piper, a professional photographer on assignment and she makes him burn with desire for her.
When Piper asks Theo to pose for her, he turns the tables and makes a proposition: Agree to be his while they are on the island and at the end of the week, they go their separate ways. No harm, no foul, no attachments. Sparks fly when Piper hesitantly agrees.
But what starts as a simple arrangement morphs into something a lot deeper as Piper surrenders more than just her body to Theo's skillful mastery. When her secret is revealed, will it tear their fledgling relationship apart? Or will Theo be able to convince Piper that he should be hers forever?
Publisher's Note: This dramatic, sexy tale is the fourth book in Anya's bestselling Pleasure Island series. While we do recommend reading all of them, it can be enjoyed as a standalone.