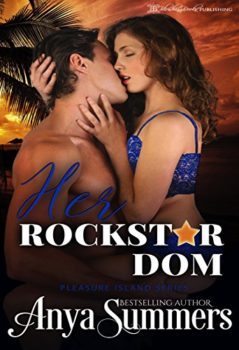 Pleasure Island #5
September 27, 2017
Blushing Books
Available in: e-Book, Trade Size
Her Rockstar Dom
Julia Dailey has a secret. She's an imposter planted on Pleasure Island, an undercover agent who's investigating visitors to the exotic, exclusive getaway. Until now, she's been able to pretend at face value that she is part of the lifestyle. But that all changes when she receives a new set of instructions from headquarters. She's to get close enough to their latest suspect that she will be forced to do something she's never considered herself capable of doing — submit.
Collum Robinson is an Australian guitarist with the band The Harbingers, with a dark and lonely past he's never fully escaped. At clubs around the world, he has women fighting over the chance to end up in his bed for the night. Never one to turn down a willing, soft body, he enjoys the fairer sex, frequently. But he's never met a woman who wanted more than a night with the fabled rock star — or one he wanted to keep. Until he meets Julia.
As they become intricately intertwined, Collum wants to make Julia his, but when her identity is revealed, can he forgive her betrayal? And will Julia be able to convince him where her loyalties lie and that he is the only man for her?
Publisher's Note: Book five in Anya Summers' bestselling Pleasure Island series contains explicit scenes and adult language.