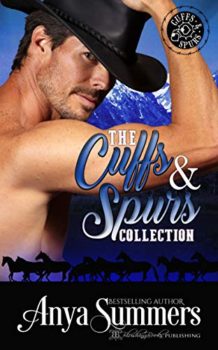 Cuffs & Spurs
December 9, 2019
Blushing Books
Box Set
Available in: e-Book
The Cuffs & Spurs Collection
Welcome to Cuffs & Spurs…
In the city of Jackson Hole, Wyoming, at the edge of civilization, is the Cuffs & Spurs lifestyle club. Where the men are rugged, forged by the elements, and cowboy masters of seduction. Where the women they meet are feisty, headstrong, and courageous enough to enter their Dom's world, taking a chance to submit to the one man they find they cannot live without.
This is the complete collection of the original eight full-length sultry, steamy Western romances. It includes…
HIS SCANDALOUS LOVE
HIS UNEXPECTED LOVE
HIS WICKED LOVE
HIS UNTAMED LOVE
HIS TEMPTING LOVE
HIS SEDUCTIVE LOVE
HIS SECRET LOVE (Plus bonus scene)
HIS CHERISHED LOVE
Publisher's Note: This steamy collection of eight full-length novellas includes themes of power exchange.