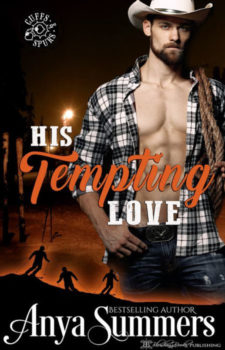 Cuffs & Spurs #5
October 9, 2018
Blushing Books
Available in: e-Book, Trade Size
His Tempting Love
Cora Roberts has a plan: move to a new town and make a better life for herself and her son. As a single mom, she's not looking for a relationship of any kind. But then she never expected to have the sexy Garrett offer her a night of uninhibited pleasure with no strings attached.
Garrett Brooks never expected Cora's surrender to his touch to be so sweet — or tempt him to want more than just a single night with her. But as he pursues a deeper relationship with Cora, a threat from his past emerges.
Will Garrett be able to tempt Cora with his love, or will outside forces tear them apart?
Publisher's Note: This steamy romance contains elements of power exchange. While it's the fifth book in the Cuffs & Spurs series, it can be read and enjoyed as a standalone.