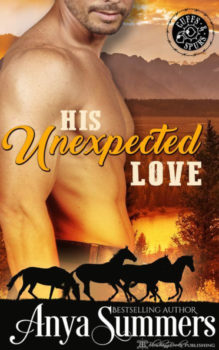 Cuffs & Spurs #2
April 8, 2018
Blushing Books
Available in: e-Book
His Unexpected Love
Carter Jones is the owner and founder of the exclusive Cuffs and Spurs Club in Jackson Hole, Wyoming. He's been invited to Pleasure Island, a lifestyle themed resort on a private island in the Bahamas, to experience what the all-inclusive getaway has to offer. His plans for the week include indulging in the finer points of life — beautiful woman, and lots of them. He's a man used to dominating a woman in every way imaginable, and then receiving praise and thanks from his selected bed mate for his prowess.
That all changes when he literally runs into Jenna. She's beautiful and headstrong, and turns his world upside down with merely a pout of her gorgeous lips. Lips he can imagine on various parts of his body. Carter devises a plan to claim the feisty woman. But will he be able to keep it strictly physical, or will her surrender to his touch affect him in unexpected ways?
Publishers note: this is the love story of how Carter and Jenna met. It can be read as a stand-alone, but if you would like to know more about them and their story this novella is for you.