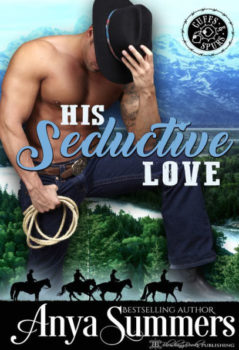 Cuffs & Spurs #6
November 26, 2018
Blushing Books
Available in: e-Book, Trade Size
His Seductive Love
Layla Walker never imagined living in Jackson Hole until she inherited her grandfather's veterinary practice. But at least there's a lifestyle club available where she can get her so-not-vanilla needs met. And yet, there isn't a single cowboy at the club who makes her stop and take notice… until the night she gets called in for an emergency at Hunt Trail Rides and she runs into the owner. He's big and brawny, looking more like a throwback to a Scottish raider than a modern-day cowboy. And then there's the little fact that he kisses her brainless in under five seconds. That had to be a world record, at least in her book.
Alex Hunt keeps women at a distance. It's not that he doesn't partake of the bountiful submissives at his lifestyle club — he does — but he doesn't let them get close. Abandoned by his mother as a child, now in his mid-thirties, he's resigned himself to living the bachelor life… until one sexy hot veterinarian waltzes into his barn and helps save his foaling mare. Now he's had a taste of heaven in a kiss that should have never happened, and he can't help but want more of her seductive embrace. And he will stop at nothing to draw her into his world — and his bed.
But there's a thin line between love and lust, fear and trust. Will Layla be able to let go of her fear and trust Alex? Or will she run away and prove to him that women can't be trusted to stay?
Publisher's Note: This steamy romance contains elements of power exchange. While it's the sixth book in the Cuffs & Spurs series, it can be read and enjoyed as a standalone.