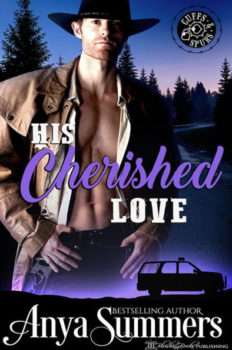 Cuffs & Spurs #8
May 23, 2019
Blushing Books
Available in: e-Book
His Cherished Love
Rayna Thompson's entire life is a lie. She avoids relationships as if they were the plague — mainly because the people who get close to her wind up dead. And yet her newest next door neighbor, the sexy, stoic Jack Stone, is making her want to break all her rules. The problem is, he's a cop, and she doesn't know how long it will take before her past catches up to her and all her secrets are revealed.
Jack believes in law and order. He keeps his work life separate from his personal life. Not that he has much of a personal life as a Detective with the Jackson Hole Police Department; most of it is relegated to the private lifestyle club where he is a member. However, during his latest assignment, he begins to blur the lines between professional and personal.
Rayna pushes each of his boundaries and makes him question everything he knows about the law and what he's willing to do for love. Will their newfound relationship survive when her past comes back to haunt them?
Publisher's Note: This steamy, suspense-filled contemporary romance contains themes of power exchange. While it is part of the best-selling Cuffs & Spurs series, it can be read and enjoyed as a standalone.