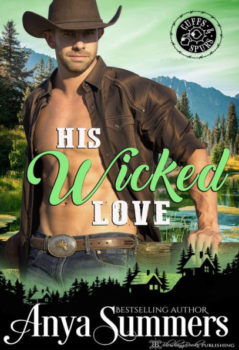 Cuffs & Spurs #3
May 8, 2018
Blushing Books
Available in: e-Book, Trade Size
His Wicked Love
Mason Stewart is in a pickle. He and his brother are the co-owners of the Black Elkhorn Lodge and Resort. Their dream stands at the precipice of utter ruin because their previous chef embezzled every last dime of savings they had for the lodge. In a last ditch effort to save his business from the brink of annihilation, Mason hires a new chef for their restaurant; sight unseen.
Nothing can prepare him for Emily, the red-haired siren who waltzes into his resort, carting a set of chef knives and demanding to see her new kitchen. She challenges his authority. She inflames his every wicked desire. She is everything he has ever wanted. And he can't touch her. He's her boss. And it would be wrong to give in to the incendiary heat between them… wouldn't it?
Publisher's Note: This contemporary romance is the second installment of the Cuffs & Spurs series but can be enjoyed as a stand-alone. It contains explicit scenes and elements of power exchange.