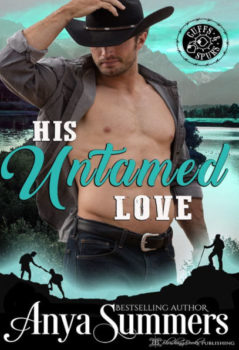 Cuffs & Spurs #4
July 9, 2018
Blushing Books
Available in: e-Book, Trade Size
His Untamed Love
Visiting the Black Elkhorn Lodge and Resort is Mia Evans's last option. She's bordering on a nervous breakdown. Everyone in her life she thought she could count on deserted her. And, to make matters worse, she has the foulest case of writer's block in the history of the world. She figures getting herself out of the prison her apartment in Chicago has become will help jar her life and her writing out of the rut they are in. But she isn't prepared for the surly, sexy cowboy — who looks like her every dark fantasy come alive — riding into her life on his trusty steed.
Cole Stewart only loved one woman in all his thirty-five years, until he lost her forever and swore he would never love another. Since then he's had a revolving door with the subs at his lifestyle club Cuffs & Spurs, all with the unwritten rule that he doesn't get involved or do relationships of any kind, period. That is, until Mia Evans, the burned-out, anxiety ridden author, needing to get away from her real life, nearly runs him over with her car. Seeing the haunted expression in her gaze and a body he craves, the Dom in him knows he must have her, must taste her and feel her writhing beneath him. But will he be willing to risk his heart for the untamed passion he finds in her arms?
Publisher's Note: This steamy romance contains elements of power exchange.