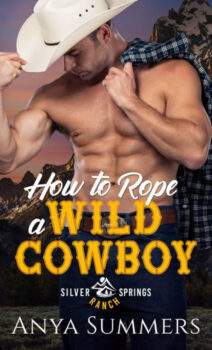 Silver Springs Ranch #1
August 23, 2020
S & G Books, LLC
Available in: e-Book, Trade Size
How To Rope A Wild Cowboy
Emmett Benson makes no apologies for his bachelor status. He revels in a woman's surrender but does not want the responsibility of claiming a submissive for his own, because no one is worth the price of his freedom. He appreciates his friends, loves his horse, and fancies wrangling cattle every day over interacting with people. When it comes to his life, he figures he has it made, and that there is no reason to alter things—now, or in the future.
But all it takes is one lousy spill off a new, temperamental thoroughbred to cause a load of trouble. One look at the prim and proper new town doctor, and Emmett wants nothing more than to ruffle her cool demeanor. The woman is likely too tightly wound to even consider submission. He cannot desire her. It is out of the question. He must be delirious from the pain of his injuries to even be contemplating the possibility of claiming her, even though she makes him want to mark his territory and challenge any man who comes near her. Still, he convinces himself it is not an issue after he leaves her office.
But then the doctor makes an unexpected house call and, with her sweet, feminine scent clouding his senses, Emmett makes her a bargain. He will behave like the perfect patient, for the cost of a single kiss, freely given. He never expected her to accept his offer.
He thought he was in trouble before, but after just one kiss, every dominant part of Emmett's being thunders: MINE.