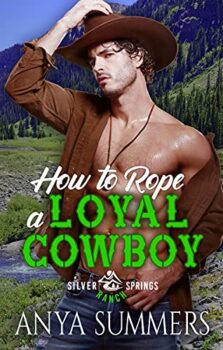 Silver Springs Ranch #4
July 27, 2021
S & G Books, LLC
Available in: e-Book
How to Rope a Loyal Cowboy
Widowed single dad Noah needs help in the worst way. He's desperate to find a new live-in nanny to care for his four-year-old twins while he's at work in the stables. Ever since his wife died, he has lived like a monk. What with raising two boys solo and working as the horse master for Silver Springs Ranch, there hasn't been time in his life for things like finding a willing bed partner to slake his dark needs.
When the achingly beautiful Morgan appears on his doorstep inquiring about the job, he doesn't think twice about hiring her. He snaps her up before she discovers his boys are little hellions who have driven the last few nannies away over their antics.
And yet, for the first time in three years, since he buried his heart in the ground, Noah is entranced by naughty visions of the new nanny. She's young, full of enthusiasm, and stirs up every wicked fantasy in his arsenal.
He prays he has the fortitude to resist her delectable charms because she's forbidden. At his age, he can't sleep with, let alone crave, a woman fresh out of college. But she keeps casting sexy glances suffused with desire in his direction, battering his resolve to stay away. She's headstrong, and he aches to exert his dominance.
Will he wave the white flag, and surrender to her naughty whispered pleas?