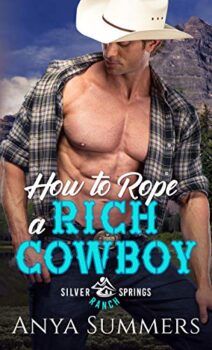 Silver Springs Ranch #2
November 17, 2020
S & G Books, LLC
Available in: e-Book
How To Rope A Rich Cowboy
Colt Anderson is burned out. Every part of his daily life has become a tedious chore. He cannot remember the last time he took a day off or, better yet, felt a woman's willing surrender. And it's just his luck that on his first day off in ages, he runs into a sexy squatter on his property, never expecting that single interaction would alter the very fabric of his world.
Still, he cannot seem to stay away from the sultry scientist, Avery. Colt feels bad for her, worries that she is running from something, and decides to cover her stay at the ranch. After all, he owns the place and has plenty of cash. Although that tiny little detail is a secret he plans on keeping to himself. It is addictive having a woman look in his direction and not see dollar signs for a change.
Because when Avery casts those goddess eyes his way, he's just a man, a man she craves and submits to body and soul, like he's her man, and his longing for her has him tied up in knots. With trouble and danger drawn to her like magnets, Avery pulls out his protective, dominant nature. The woman needs a keeper, and he's the perfect man for the job.
Now he has less than two weeks to convince her to stay, to make her fall for him before she discovers he's rich. But will she hate him when she discovers his deception?