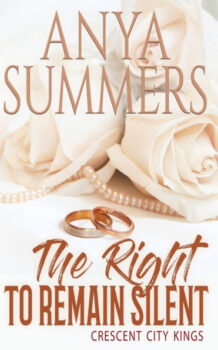 Crescent City Kings #3
April 23, 2020
Blushing Books
Available in: e-Book, Trade Size
The Right To Remain Silent
He never expects to find her there…
Officer Quinten Blackthorne is working undercover to bring the Rudnikov Mob Empire to its knees. He never expects to find his best friend's baby sister, Becca, in the center of a powder keg situation at the infamous mobster's home. With her life on the line, he does the only thing he can think of to save her — he pretends that she's his fiancée, who knows nothing of his clandestine activities with the criminal enterprise, and stands as her stalwart protector.
Forced into marriage…
But Quinten never expects the mob boss to force them into marriage at gunpoint as a test of loyalty. Not to mention, the idea of her belonging to him isn't unappealing, nor is he as averse to the prospect as he lets on. Becca, with her sweet curves and take no prisoners attitude, fascinates him, stirs him, and leaves him craving her submission. Yet his past is fraught with broken dreams and death, so he uses his friendship with her brother as a shield against his yearning to claim her as his own.
Resistance is futile…
However, circumstances soon compel Becca and Quinten to become the most unlikely allies in a deadly game of deception. Now they must depend on one another for survival. As they race to unlock the keys to breaking the case, will Quinten be able to maintain his hands-off policy with Becca? Or will he surrender to the earth-shattering passion and turn their marriage of convenience into the real deal?