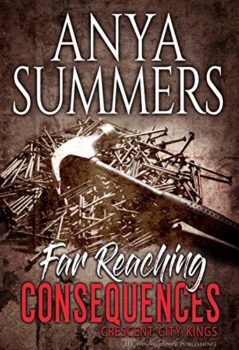 Crescent City Kings #2
January 15, 2020
Blushing Books
Available in: e-Book, Trade Size
Far Reaching Consequences
Phoebe needs a second chance at life.
In the aftermath of the devastation from her failed marriage, Phoebe returns to her old stomping grounds to open her own bed and breakfast. Starting over is the bravest thing she's ever done — or so she thinks. But opening her front door to find a blast from her past on her front porch changes all that. The teenager she'd once known has become a jaw-dropping, dominant man in his prime.
He wasn't looking for a relationship until she blazed back into his life.
Graham runs his own construction business, remodeling homes, and building brand new ones. When his buddy gives him a lead on a new project, he never expects to run into Phoebe, the woman he shared a single kiss with eons ago. Nor is he prepared for the Dominant in him to stake his claim before the end of their first meeting. He wanted her in high school but there had been too wide a gulf separating them. Now, Graham will stop at nothing until he makes her his. But there are larger forces at work, attempting to tear them apart.
When everything Phoebe holds dear becomes a target, Graham will risk it all for the one woman he knows he can never live without.
Publisher's Note: This steamy second chance romance contains elements of power exchange.