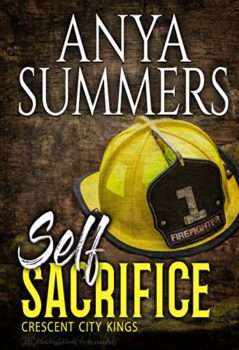 Crescent City Kings #5
December 15, 2020
Blushing Books
Available in: e-Book
Self Sacrifice
The opportunity of a lifetime…
Genevieve Holt headed to New Orleans to interview with one of the top advertising agencies in the country. It's one of her most cherished dreams — to become an advertising executive before she hits thirty-five. She figured she would tackle the interview, and celebrate by spending a few days enjoying the fabulous French Quarter.
She never expected to wind up stuck in her pajamas on the eleventh floor of her hotel while it was on fire. Or that she would be rescued by the hottest firefighter she had ever met, and experience the most erotic night of her life in his arms.
But all actions have consequences…
Firefighter Killian Raveau loves his job. It doesn't hurt that in his profession, women throw themselves at him. He never lacks for female company if he wants it. And yet, there was a one-night stand that he wishes had developed into more. Then again, it could just be that he is at a crossroads professionally, and unsure of the direction he should proceed.
When that same woman appears on his doorstep three months later and drops a bombshell, totally upending his life, it leaves him rethinking all of his priorities.
Can Killian convince Gen to turn their one night into forever? Or will Gen's strict dating policies get in the way?