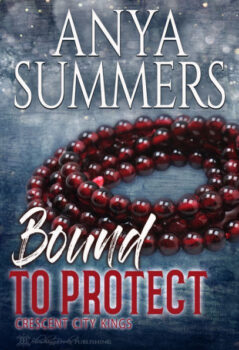 Crescent City Kings #4
September 29, 2020
Blushing Books
Available in: e-Book
Bound To Protect
The weight of the world on her shoulders…
Sabrina Thomas needs to catch a break. By day she juggles two jobs, only to head home at night to care for her mentally ill brother. With their parents gone, the responsibility for his care, the doctor's bills, the hospital stays, the at home care, falls to her. Six months ago, the trust fund their parents left them dried up and with the mounting bills, she has until the end of the month to make good on late rent payments before they are evicted. Sabrina knows where she could make a lot of quick cash with her looks: Bayou Sin, the classiest strip joint on Bourbon Street. But her plans go awry when Dante hauls her off the stage and takes her to his penthouse.
His lifestyle called into question…
Billionaire Michael Fitzgerald and his partner in crime, Dante Rousseau, have been topping submissives together for years. As the owner of the fifth largest sugarcane supplier, with a host of multi-conglomerate corporations to run, Michael has always kept his bedroom preferences under wraps. When a rival on the board attempts to engage in a hostile takeover and have Michael expelled from his own company, he knows he needs to find a woman he can trust to pretend to be his fiancée and put the kibosh on the illicit rumors spreading like wildfire through the company's board members. When Dante shows up with their housekeeper, Sabrina, who is spitting mad at being denied the opportunity to make some fast cash, Michael knows she is just the woman for the job.
An offer neither can refuse…
Michael and Dante make Sabrina a deal: pretend to be Michael's sole love interest for thirty days to dispel the rumors and stop the takeover. In exchange, they will pay her ten million dollars at month's end. But the lines soon become blurred as to what is real and what is make believe. And when their time together is up, will they be able to walk away, or will they take the chance to make their relationship the real deal?