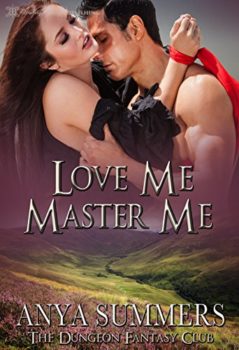 Dungeon Fantasy Club #6
September 14, 2016
Blushing Books
Available in: e-Book, Trade Size
Love Me, Master Me
Delilah Gregory is an opera superstar, enchanting the world with her soaring voice and voluptuous form. When her long-time friend, Declan, asks her to perform at his wedding, she can't refuse, and heads to Mullardoch Manor in Scotland. She's looking forward to finding a Dom to play with while she's there, although with the demands of her career, and still recovering from her ex's betrayal, the last thing on earth she's looking for is an actual relationship.
Bastian Dean is a rock star, playing to sold-out stadiums worldwide. His bedroom tastes have always been on the wild side, and the only way he can find satisfaction is when he has a bound submissive begging for his touch. Unlike most rock stars, he keeps his dalliances to bona fide members of the Dungeon Fantasy Club — and as far away from the tabloids as possible. When he meets the ethereal beauty Delilah at the manor, Bastian is determined to enjoy the beautiful, submissive woman's bounty.
Delilah is stunned by the ecstasy she finds within Bastian's arms. She doesn't even like the man much — aside from what he can make her feel even as he disciplines her bare bottom. But despite her misgivings about him, what starts out as a bit of fun and play in the dungeon soon turns into a relationship, where Delilah finds herself healing under Bastian's passionate touch.
When the demands of her career and a threat from her past intervene, Bastian must use every note in his arsenal to convince Delilah that theirs is a duet worth singing. But can she be convinced to trust him with her heart?
Publisher's Note: While this is the sixth book in the Dungeon Fantasy Club series, it — like all the others — can be enjoyed as a standalone. This story contains explicit erotic and BDSM scenes, so if such material is likely to offend you, please do not read it.