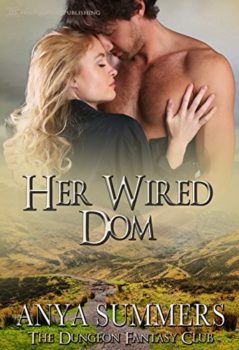 Dungeon Fantasy Club #8
November 13, 2016
Blushing Books
Available in: e-Book, Trade Size
Her Wired Dom
Will Evans is the CEO of a new virtual gaming company that is changing the tech world. He's an avid gamer and a complete nerd, spending more time playing the latest hot game than doing anything else. He's also a closet Dominant. As confident as he is in the boardroom, he's been unwilling to unleash his primitive alpha side on a woman, afraid that his six foot six frame and muscle man strength could do irreparable damage to his partner. But then he meets the world famous ballerina Katarina Roberts at his best friend's wedding. Her diminutive, slender form and willowy grace bring out an uncontrollable urge in Will to both master and protect her — but a dark secret from his past makes him reluctant to give in to that urge.
For her part, Katarina has achieved greatness through the strictest self-control and discipline. She has never allowed a man to rule her or her life in any way. As a submissive, she has had lovers in the BDSM lifestyle, but never found one she wanted to keep or was willing to submit her heart to. She preferred it that way, as it left her free to pursue her career as a prima ballerina. Now, after years of touring, wowing crowds around the world, she is ready for some heavy duty rest and relaxation.
When Kat attends her oldest friend's wedding in Scotland on New Year's Eve and meets Will, who is her every fantasy brought to life, she feels as though she has finally met a man worthy of submitting herself to body and soul. Can she convince Will to be the Dom of her dreams, even disciplining her when she's been an insubordinate little submissive, or will he treat her like precious glass and walk away?
Publisher's Note: Her Wired Dom is the eighth book in the bestselling Dungeon Fantasy Club series and, like the others, can be read as a standalone. It contains explicit sexual scenes and BDSM themes, including whipping.