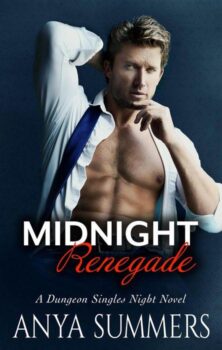 Dungeon Singles Night #4
September 24, 2021
S & G Books, LLC
ISBN-10: B09HQQ8B9T
ISBN-13: 9798472208444
Available in: e-Book
Midnight Renegade
They were enemies…with benefits.
Sworn adversaries with no love lost between them. And yet, the night Brody throws down the gauntlet, challenges Reegan to surrender to his touch, she recklessly accepts.
An erotic pact forged in flames. But there are rules. He will give no quarter. No emotional ties. No commitment. And absolutely, no falling in love.
She agrees to his terms. She makes a deal with the devil. She's playing with fire.
And they are both about to be burned…