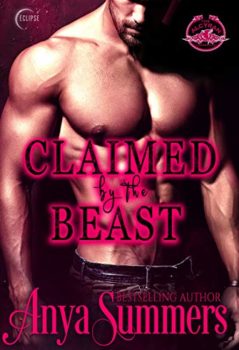 Alcyran Chronicles #2
March 28, 2019
Eclipse Press
Available in: e-Book
Claimed by the Beast
Moira's life is finally heading in the direction she worked herself silly to achieve. She recently graduated from college at the top of her class, and before she heads to graduate school in the fall, she embarks on a two-week holiday with her besties in Ireland to celebrate.
It is supposed to be the trip of a lifetime — one where she figures she can finally change her virginal status. Only, nothing goes as planned.
Moira and her two friends get chased into another world by a big, freaking winged monster, and her life just goes downhill from there. At least… until she meets this really hot guy who shows her just how incredible the horizontal tango can be. There's just one teensy little problem: once they do the deed, she kind of ends up mated to him — for life.
Now Moira has to figure out if she can give up the life she always thought she would lead, for the one man in all the universe she is fated to love.
Publisher's Note: While this is the second book in the steamy, paranormal Alcyran Chronicles series, it can be enjoyed as a standalone.