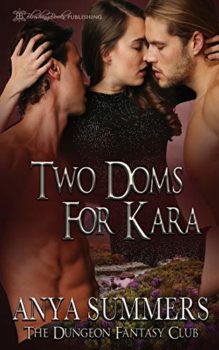 Dungeon Fantasy Club #3
October 24, 2019
Blushing Books
Available in: e-Book, Trade Size (reprint)
Two Doms for Kara
They're her business partners, so she shouldn't get involved. Should she?
Kara Lowe is the successful owner of Bridal Dreams, where she works with happy couples to make their special day a fantasy come true. When she is asked to oversee the wedding of a lifetime on the other side of the world, she knows she needs to rely on the two men she's recently gone into business with to ensure the elite couple's wedding goes off without a hitch. What she doesn't expect is for her two partners to decide that, in the wild hills of Scotland, anything goes—including all of her pent-up inhibitions.
Zeke Driscoll and Chase Manning have desired Kara for years; since well before their merger with Bridal Dreams. When a unique getaway wedding presents itself on the books, they decide the Dungeon Fantasy Club is the perfect place to unravel their partner's sweet beauty and uncover the submissive they know is hiding inside her, just waiting to be let out. The two Doms will test Kara's boundaries, knowing they've found the submissive to hold their hearts.
As Kara begins to lose her heart, she must face the reality of their ménage relationship. Will she be brave enough to commit to a lifetime with her two Doms?
Publisher's Note: This is the third book in the Dungeon Fantasy Club series by Anya Summers; however, like all the other books, it can be read as a standalone. It contains explicit sexual themes, including BDSM, MFM ménage, and some m/m action. If such content offends you, please do not purchase.
Originally published June 2016 in eBook and trade paperback.