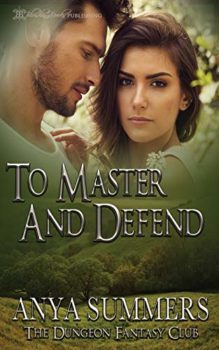 Dungeon Fantasy Club #2
October 24, 2019
Blushing Books
Available in: e-Book, Trade Size (reprint)
To Master and Defend
Dominance. Submission. Honor.
Ophelia Mills is coerced by her friends into having a fashionable night out, where she discovers the newest night life destination is actually an exotic BDSM Club named Dungeon Pleasures. She's always been curious about the lifestyle, but her reserved nature has so far held her back from exploring her desires. When an over enthusiastic clubgoer goes overboard with his intentions and attempts to force her into submission, the club's owner comes to her rescue, defending her honor. After a scorching one night stand with her knight in shining armor, Ophelia discovers that the fantasy was one for the record books.
Tobias Ford likes his life just fine. At the helm of two successful businesses, he's a Dom with a checkered past and isn't looking for anything permanent. He's perfectly content to enjoy the submissive offerings at Dungeon Pleasures, as well as his membership in the exclusive Dungeon Fantasy Club. Then Ophelia Mills stumbles in, needing his protection, and bringing forth every dominant urge he possesses. After a torrid night he cannot forget, he devises a campaign, laying siege to her heart even as he spanks her bare bottom for disobedience. With every one of her pleasured cries, Tobias falls further under Ophelia's spell as she surrenders to his mastering.
As he indulges her newfound carnal appetite, Ophelia will have to face old hurts, and decide whether or not she can trust him with the most precious of gifts.
Originally published May 2016 in eBook and trade paperback.