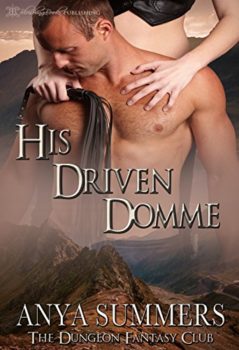 Dungeon Fantasy Club #4
July 14, 2016
Blushing Books
Available in: e-Book, Trade Size
His Driven Domme
Jesse Noble loves fast cars and even faster women. A professional race car driver, he's used to being in the driver's seat, until a devastating loss on the track forces him to walk away from the only life he's ever known. After months of rehab and soul-sucking depression, Jesse heads to his friend's place in Scotland, thinking a month or two of indulging in the fleshy delights of the Dungeon Fantasy Club will help him maneuver the road to recovery better than any painkillers.
Lucy Martin is the mistress and commander of her world. Labeled an 'Ice Queen' by her co-workers, she hides her tender and passionate heart from the world, even as she hopes to one day find a man who will help soothe her shattered heart. Now her best friend Zoey, the only person on the planet Lucy can confide in, has gone AWOL and left the country for some Scottish laird. On a mission to rescue her BFF, Lucy travels to Mulladoch Manor and has her world turned on its axis; finding herself in an exclusive BDSM club where she feels right at home.
When the dominant Jesse spies the luscious Lucy sporting four-inch stilettos and leather in the Dungeon Fantasy Club, he surrenders to a night of mind-blowing ecstasy, her caresses somehow driving away every one of his inner demons with supreme skill. In the race of his life, Jesse moves out of the driver's seat and willingly becomes her passenger — if only she'll continue tying him up and paddling his bare ass into the most erotically charged, world altering orgasms he's ever experienced.
When their past secrets are revealed, Jesse will have to convince Lucy to enter the fast lane with him — and prove that he's willing to submit to all of his Domme's utmost desires. Can he make the ultimate sacrifice and give up control — for love?
Publisher's Note: While this is the fourth installment of Anya Summer's Dungeon Fantasy Club series, like all the books in the series, it can be read as a standalone. It contains explicit sexual themes including anal play and BDSM elements, as well as femdom scenes. If such material offends you, please do not purchase.